Ancestralize Fido!
December 21, 2011
You've made the commitment to feed yourself, your partner, and/or your family Paleo foods. That's great! But where does your pet fit in on the Paleo spectrum? Is Fido still eating corn/soy/wheat based kibble? Are you still giving him "Beggin' Strips" as his treat?
If you won't eat fake bacon, why should your dog?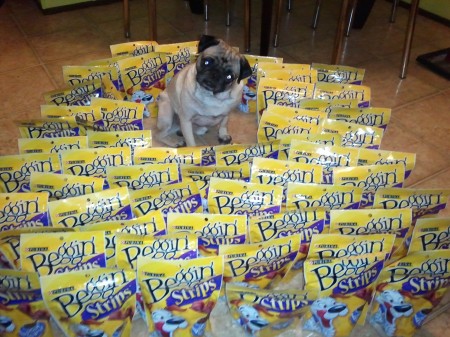 Here are the ingredients of your standard Dog Chow:
Whole grain corn, poultry by-product meal, corn gluten meal, animal fat preserved with mixed-tocopherols (form of Vitamin E), meat and bone meal, brewers rice, soybean meal, whole grain wheat, egg and chicken flavor, animal digest, calcium phosphate, salt, calcium carbonate, potassium chloride, L-Lysine monohydrochloride, choline chloride, added color (Yellow 6, Yellow 5, Red 40, Blue 2), zinc sulfate, Vitamin E supplement, ferrous sulfate, manganese sulfate, niacin, Vitamin A supplement, copper sulfate, calcium pantothenate, garlic oil, pyridoxine hydrochloride, Vitamin B-12 supplement, thiamine mononitrate, Vitamin D-3 supplement, riboflavin supplement, calcium iodate, menadione sodium bisulfite complex (source of Vitamin K activity), folic acid, biotin, sodium selenite. 
And here are the ingredients of the classic Beggin' Strip treat:
Ground wheat, corn gluten meal, wheat flour, ground yellow corn, water, sugar, glycerin, meat, hydrogenated starch hydrolysate,soybean meal, bacon fat preserved with BHA, salt, sorbic acid (a preservative), artificial smoke flavor, calcium propionate (a preservative), glyceryl monostearate, phosphoric acid, choline chloride, added color (red 40, blue 1, yellow 5, yellow 6).
Seriously disgusting.
So in a world of grain-filled, artificially flavored dog 'food', what should you be feeding your Ancestralized pup?
Ideally, I'd like to say RAW food. CaveGirlEats has a great article about the raw food that she feeds her big boy. Obviously raw food is the ideal to be feeding your dog, but for a semi-broke, very busy graduate student, the frozen raw food can be a bit time consuming and expensive. I'd be lying if I said I fed my dog raw elk meat butchered from a fresh kill hunted with an atlatl (sarcasm). However, I have found a few products that I'm happy with, and my elderly 'baby girl' seems to be doing well with these items.
First, the kibble itself. I've been generally sticking to either Orijen or Acana brand and trying a few different varieties. I try to switch it up so she doesn't get bored with the same food over and over. Since she's an older dog, I try to get food that is a bit lower in iron, so I like the egg and fish based varieties. Most recently I purchased Acana 'Pacifica', which has the following ingredients:
Boneless salmon (natural source of EPA, DHA) salmon meal, herring meal, russet potato, peas, whitefish meal, salmon oil (naturally preserved with vitamin E), sun-cured alfalfa, boneless herring, boneless flounder, natural fish flavors, pumpkin, pumpkin, turnip greens, spinach, tomatoes, carrots, apples, organic kelp, cranberries, blueberries, juniper berries, black currants, chicory root, licorice root, angelica root, fenugreek, marigold flowers, summer savory, rosemary, vitamin A, vitamin D3, vitamin E, niacin, zinc proteinate, thiamine mononitrate, riboflavin, vitamin B5, iron proteinate, viatamin B6, manganese proteinate, copper proteinate, folic acid, biotin, vitamin B12, selenium, dried Lactobacillus acidophilus fermentation product, dried Enterococcus faecium fermentation product.
Not too shabby for dry dog food. I really like that there are probiotics in this food (including fecal bacteria, yummy), but I do add some supplemental probiotics to my dog's food every now and then, since she's had a few bouts of colitis in the past due to some inappropriate plate licking and leftovers eating (apparently my brother has never heard of a dishwasher).
I add NaturVet Enzymes and Probiotics which not only has probiotics to improve her gut flora, but also digestive enzymes to make sure she's able to break down the food into useable nutrition. Since she's an older dog, she definitely needs a bit of digestion assistance. I find that the probiotics and enzymes have greatly reduced her post-meal digestive issues, which mainly had been in the form of pretty gnarly flatulence in the past.
To further emulate the 'wild dog' diet, I also like to add some uncleaned tripe to my dog's meals on a regular basis. The brand I use is Tripett, and I've played around with all the different flavors that it comes in. She seems to prefer the green venison tripe, which smells GOD awful, but my dog literally goes bonkers for.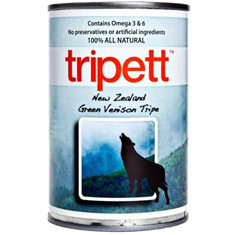 The standard green tripe is simply the stomach of a grass-fed animal (cow, lamb, deer, etc.) that still contains all the partially digested grasses that the animal had in its stomach when it was slaughtered. In the wild, carnivorous animals generally tend to go for the intestinal contents of the animal when freshly killed. I like to try and provide my dog a little bit of 'wild dog' food to provide the nutrients and enzymes that she'd be getting if she had her cute little head buried in the stomach cavity of a caribou. It takes a little getting used to the gag reflex that comes when opening the can, but I definitely think it's worth the trouble when I see my dog go straight for that mushy pile of grey-green nastiness. It's gross, but she adores it.
As far as treats go, I try to minimize the amount of ingredients that my dog is consuming. I really like to give her freeze-dried or dehydrated organ meats as her little daily indulgence. A really great Paleo-friendly brand is Primal Pet Foods Inc. that has a huge variety of good quality dog treats made from minimal ingredients. A great choice is the Dry Roasted Buffalo Liver Chunks, which literally are just dried chunks of buffalo liver. My dog absolutely loves these types of treats, to the point where she doesn't even chew them half the time. Just inhales.
Finally, the last product that my dog will forever be obsessed with is her beef tracheas. These are literally the windpipes of cows, and my dog FREAKS out when I tell her I'm going to give her one. Not only is this a really natural thing for dogs to be chewing on (again, just imagine a wolf going straight for the throat of a large animal), but they're largely made of cartilage, which is a great source of chondroitin and glucosamine that can help keep dogs' joints healthy. This is especially important for an older dog. (Did I mention my dog is almost 13 years old?)
I buy the 6 inch size for Penny, which is definitely large enough for her. I get them from a store called the Only Natural Pet Store in bags of 25, since its the least expensive way to purchase them. I can basically guarantee that your dog will love them as much as my doggy does.
So moral of the story here: make sure if you do kibble its grain-free, provide him/her with probiotics and enzymes to support digestion, include some organs such as tripe or dried liver, and give your dog something super natural to chew on such as a trachea.
Your dog will thank you for it!